The Return
Other backstory character
"The Return" is the 19th episode of Once Upon a Time.
Summary
Mr. Gold attempts to uncover the true identity of August, and Emma confronts Regina about her involvement in Kathryn's disappearance, while David tries to apologize and reconcile with Mary Margaret. Meanwhile, in the fairytale land that was, Rumplestiltskin agrees to comply and do whatever it takes if his son can find a way for him to safely give up his powers and turn back into the loving man he used to be.
Plot
Previously on Once Upon a Time...
Snow White and Prince Charming pronounce their vows for one another at their royal wedding. ("Pilot") Queen Regina sends a magic fireball out from her hand. ("The Thing You Love Most") Emma presents Mary Margaret with her jewelry box during interrogation, which is where Kathryn's heart was discovered in. ("Heart of Darkness") David mentions to Mary Margaret in her cell that it was her jewelry box used to hide the heart and that the hunting knife used to cut it out was found in her apartment, he begins to doubt her innocence. ("Heart of Darkness") As she's getting her mugshot taken by Emma, Mary Margaret exclaims that she didn't kill Kathryn. ("Heart of Darkness") Henry is talking to August W. Booth at Granny's Diner, excited to discover that August thinks that the book is real and completely believes Henry. He says that he's a believer and wants to help others see the light, Henry tells him that no one else believes but Augusts states that he's there for Emma. ("Heart of Darkness") In a parking lot, a woman is seen lying unconscious, Emma approaches her and she comes to only to discover that she is none other than the estranged Kathryn Nolan, proving Mary Margaret's innocence. ("The Stable Boy")

ONCE UPON A TIME
Act I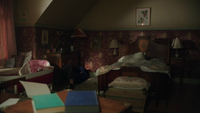 August has trouble getting up.
In the B&B room of August W. Booth, the writer is lying on his bed, having just woken up. He writhes around, seeming unable to stand. He tries hard to sit up, to move his left leg, and lifts it with his hand. Soon, he overpowers himself and falls from his bed, crashing into some cabinets. He exhales heavily but soon manages to stand up, stabilizing himself by grabbing onto some furniture. He sits down on a chair, seeming in pain, and picks up his telephone. He puts in the number and asks the person on the other line if they're there, he is happy that they are and tells him or her that "this" is taking too long and that they need to "accelerate the plan".


August is next seen waiting by the Storybrooke docks in order to meet someone. Henry approaches him and the former asks him if he knows what to do, Henry tells him that "Operation Cobra" is always ready. He then goes on to say that he doesn't see how any of what they're doing is going to help Emma to believe. August tells Henry that sometimes other priorities assert themselves before asking the kid if he's okay with improvisation. Henry answers positively before asking August the same question, the writer smiles and tells Henry that they're a go. Henry runs across the street to Mr. Gold Pawnbroker & Antiquities Dealer. He enters the pawn shop and greets Mr. Gold who is surprised to see he's there, wondering what he can do for him. Henry says that he'd like to get a gift for Miss Blanchard since she didn't kill Kathryn, Gold tells him that that's good thinking and begins to help the boy browse. As Henry's keeping Gold well and distracted, August sneaks in the shop through the back entrance and is surrounded by storage. He walks around, hearing Gold and Henry's muffled voices, apparently looking for something. He looks over at some shelves. "May I help you?" Mr. Gold requests, walking into the room. August is surprised and Gold steps behind the till, the former explains that he's looking for some maps as he's a bit of a collector. Gold tells the writer that there's maps through in the shop, but that they're in his office. August lies, saying that he thought it was the entrance, Gold tells him it's not, rather bluntly. "The shop's through there," he makes clear. August says nothing, merely leaves. Gold stares on as August leaves, seeming rather confused and suspicious.


Emma walks in to Storybrooke's local hospital to see Dr. Whale treating Kathryn who's sitting up in a sick-bed. Dr. Whale points out that she's awake and Emma apologizes for taking up Kathryn's time but asks her if she knows what happened to her whilst she was gone. Kathryn says that she doesn't know much, telling Emma that she was in a car accident and remembers the airbag going off and that the next thing she knew, she was in some dark basement and didn't see anyone, but there was food and water and then she was drugged. Whale confirms this, saying that they're still trying to flush the drugs out of her system. Kathryn goes on to say that she then woke up in a field on the edge of town and started walking, and that was it. Emma asks her if she saw anyone or noticed any sign of another person, Kathryn answers negatively, apologizing for being so little help. "Especially since... when I was gone, did people think I was dead?" Kathryn asks. Emma explains that her DNA matched the heart they found and Whale tells her that they're grilling everybody down at the lab to see who doctored the DNA results. Kathryn wonders why anyone would do that and Emma voiced that she thinks someone was trying to frame Mary Margaret. Kathryn is still confused, asking who would do something like that. Emma nor Dr. Whale provide an answer.


"You broke our deal," Regina says to Mr. Gold, angrily. The latter tells her that he's only broken one deal in his life but the one to which she's referring certainly isn't it. Regina exclaims that Kathryn was supposed to die and that Mary Margaret was meant to get the blame. Gold refuses this, stating that you can't just turn someone into a snail and then step on them. He points out that Regina didn't say, "Kill her," they merely agreed that something tragic should happen and that getting abducted is pretty tragic. Regina tells him that the intent was perfectly clear but Gold tells her that intent is meaningless. "Intent is everything!" she yells. "Please!" he shouts before walking out from his counter. Regina tells him that people are going to have all kinds of questions about where Kathryn was and how the test results got faked. Gold mentions also how she put the key in Mary Margaret's cell and Regina realizes that it's all going to lead back to her. "You bastard!" she exclaims before telling him that it doesn't make any sense as the two of them have been in it together from the start. Gold laughs at this and Regina reminds him that he created the curse for her, the curse that brought them to Storybrooke, Gold tells her that it's about time she said "thank you" and Regina asks him why he did it. "Well, you're a smart woman, your majesty... figure it out," he tells her before walking away, Regina smiles evilly.



Overreaction much?
We see children playing in a small village in the fairytale land that was and Baelfire kicks a ball that bounces off of a wall and rolls in front of a donkey cart, he runs over to fetch it. He trips and halts the man, his cart and his poor donkey. The man to whom the cart belongs yells at Baelfire, asking him what he was doing in the middle of the road. Bae apologizes and, suddenly, the man recognizes him, telling him that everything's fine and that it was the donkey's fault. The man offers him a chicken and some eggs but Bae refuses his offer, thanking him nonetheless. Bae is about to leave when a voice asks what is going on, every villager stares as Rumplestiltskin emerges to his son's aid. The man protests that it was nothing, blaming himself, saying that he wasn't looking where he was going, he points out that Bae is fine. Bae assures Rumple that he is fine, Rumple asks his son if he's sure and Bae nods, assuring this. "Well, I suppose it won't happen again..." Rumple says, he is assures by both his son and the man that it won't. Rumplestiltskin halts, asking what the injury on Bae's knee is, pointing out a cut. They both assure the Dark One that it's nothing. Rumple extends his arm and tells the man not to bother, magic ensues from his hand and, soon enough, the man is reduced to a mere snail. The villagers are shocked and Rumple approaches the snail, Bae begs and pleads his father not to do it but Rumple ignores him, stepping on the poor snail, killing him. All witnesses vacate the area and Rumple walks away with his son.
Act II
Over at Storybrooke General Hospital, Kathryn is sleeping in her bed as David quietly approaches her. He looks at his wife and goes to kiss her on the forehead, however, she wakes up and gasps, startling him. David apologizes and is asked by Kathryn what he's doing. He replies that he was trying to kiss her on her forehead and that it was meant to be sweet. Kathryn thanks him, telling her husband that it's good to see him. David goes on to apologize for lying to Kathryn, for cheating on her and for all of what's happened. Kathryn assures him that it's okay, telling him that what they had wasn't "it" for him, and perhaps for the both of them, she tells him that she cannot blame him for being the first one to see it. David smiles, telling Kathryn that she's "kind of amazing", Kathryn smiles, "Yeah, I am," she says. The two of them laugh and then Kathryn tells David to leave so that she may get some rest, however, he tells her that he's going to give her that kiss on the forehead. He does so and Kathryn smiles at him before he leaves.


Granny walks in to Mary Margaret's apartment where a "Welcome Home" party seems to be taking place, due to the fact that many town members are there, as well as punch and a banner. Archie greets Granny and then Mary Margaret is poured a glass of punch by Emma. The former asks why so many people are there, wondering if it's just to welcome her home, and Emma reminds her that she's got a lot of friends. Mary Margaret mentions that she didn't feel like that the previous day before going out among the party members to serve drinks. Henry is sitting on a chair, looking on at Mr. Gold who is skulking around behind the staircase. The boy asks August, who's sitting nearby, how bad it was getting caught in Gold's office, August replies that he managed to play it off. Henry wonders what the writer was looking for, asking if he found it, August answers negatively. He then leans into Henry, telling him, "But, I have a feeling that it's gonna find me." He then points out a mingling Mary Margaret and suggests that Henry give her his present, the boy proceeds to lift a gift-wrapped box and a large card from the table and presents them to a thankful Mary Margaret. She accepts the card, seemingly signed by her whole class, and reads the message within it aloud, "'We're so glad you didn't kill Mrs. Nolan.'" The partiers around her laugh. Henry tells her that he got her a bell, shaking her present, and Mary Margaret instructs him to tell his class that she'll be back soon, he obliges to do so. Emma suggests that she get Henry home before his mom finds out and ushers him through the party, he gives a look to August before heading towards the door. Emma is startled when David is standing in the hall, he greets the blonde and the kid and as he converses with the latter, Emma turns to her roommate and alerts her that he's there, Mary Margaret seems pretty clear that she wants Emma to get rid of him and Emma decides to do so.
She tells David that Mary Margaret's pretty tired and that he should give it some time, David points out that he merely wants to talk before Emma suggests that David walk Henry home. She apologizes to David before shutting him out and Mr. Gold emerges, saying to Emma that it's "hard to let him go". He tells her that he's referring to Henry and Emma agrees, telling him it's almost the hardest thing. "Speaking of things we weren't talking about, was it you?" Emma asks. Gold doesn't know what she's talking about and Emma goes on to ask if he made Kathryn suddenly materialize as it sure played that way to her. "Was that the magic you were going to work? Because if you kidnapped that poor, innocent woman just to let her go-" Emma tries before Gold interrupts her, wondering if Emma's proposing that he's working with Regina or against her. She guesses that he's working with her but Gold tells her to keep working on her answer. Mr. Gold says that his question is about something else, proceeding to ask Emma what she knows about "him", pointing to August. Emma informs Gold that his name is August and he's a writer, wondering why he's asking. Gold explains that he was poking around in his shop earlier in the day, he states that "August Wayne Booth" is clearly a false name. Emma wonders why it matters before Gold says that she trusts him, Emma says that she does, a lot more than she trusts Gold. Mr. Gold smirks and Emma walks back into the party, the pawnbroker stares at August.


Baelfire and Rumplestiltskin are seen walking into their home, the latter thanks the maid, telling her that she can go and fetch her supper now, the maid silently obliges, leaving. Bae inspects the cut on his leg before stating to his father that he killed that man. Rumple argues that Bae was hurt, he then sits on the table and his hand glows with magic, ready to heal Bae, however, Baelfire lowers Rumple's hand, requesting that he not use magic as it's just a scrape. His father argues that magic will heal it, however, Bae fetches some remedies from a cabinet and says that they will, also. Rumple takes the box and begins to rifle through it, ready to heal Bae naturally. Bae tells his father that he's different now and asks him if he sees it, stating that he hurts people all the time. Rumple defends himself by reminding Bae that he created a truce in the Ogres' War, that he walked into the field of battle and made it stop, leading the children home. Bae tells his father that a man who's saved a thousand lives can be done with it and stop doing things, Rumple pours some of the remedy onto Bae's scrape and he cringes with pain, Rumple tells him that he cannot be done as he still needs more power so that he may protect him. "I wouldn't need protecting if you didn't have power!" Bae argues. Rumple says that he can't get rid of it and Bae asks if he's tried, Rumple is surprised at this, proceeding to take out his Dark One's dagger and sit opposite Bae. "If someone kills me with this," he explains, "Then they gain the power. You know that, Bae. Is that what you want?" he wonders.

The deal is struck.
Bae tells him that that's not what he wants but that he thinks there may be other ways to get rid of the power. A soon as he's saying this, the maid from earlier walks back into the house. Rumple looks at her, awkwardly, before putting his dagger away, tucking it back into his robe. As the maid serves their food, Rumple tells Bae that he may search for other methods but warns him not to get his hopes up. Rumple starts loading his bowl with food and Bae proceeds to ask if, he finds a way to get rid of Rumple's power, a way that doesn't kill or hurt either of them, he would agree to do so. Rumple exclaims that it's not possible but Bae asks again that, if it was, would he do it. "Are you really that unhappy, Bae? I can conjure anything you desire... name it, what do you want?" Rumple asks of him. "I want my father," Baelfire tells him. Rumple replies that all he wants is Bae's happiness and therefore agrees that if Bae finds a way, he would do it. Baelfire is overjoyed, extending is hand to his father who proceeds to shake it. The deal is struck.


Mr. Gold is seen picking the lock to August's room at Granny's Bed & Breakfast and walking in, seeming determined. He quietly closes the door behind him. He walks over to August's typewriter and inspects the paper within it, before going on to look among August's possessions. He sees a pile of paper and removes the top sheet to see that beneath it lies a drawing of the Dark One's dagger, the name "Rumplestiltskin" emblazoned upon it. Gold picks up the drawing and stares at it.
Act III
Emma walks into Granny's Diner and goes to sit opposite Sidney Glass. He is surprised to see her but greets her nonetheless, saying that things certainly worked out, regarding Kathryn. Emma reminds him that he told her her could help her with Mary Margaret and that she wanted to believe him. "Eventually there are things that even a blind sheriff cannot ignore," she makes clear, retrieving a radio-bug from her pocket and placing it on the table, having found it at the sheriff's station. He asks if it's a bug and Emma requests that he drop the act, saying that he fooled her and spied on her and reported it all back to "that sick, crazy woman". Emma says that she can't even imagine what Regina has on Sidney but that it must be something huge. Sidney says that Regina's a good mayor but Emma reminds him that she tried to get Mary Margaret convicted of a murder that didn't even happen. She warns Sidney that he's in a lot of trouble as there is a DNA trail in the basement of some house somewhere and she will find it and then Regina will meet her downfall. Sidney says that he wouldn't bet against her, stating that she is an amazing woman. Something then dawns on Emma and she asks if Sidney's in love with Regina, he is silent, confirming her suspicion. "Fine. Whatever. Here's the thing. Before you know it, I will have that evidence... and you need to think long and hard, you can either help me and help yourself, or you can go down with her, too," Emma tells him. Sidney is silent again and so Emma gets up and leaves the diner.

August is seen hopping on his motorcycle and starting the engine, he drives away. We are shown that Mr. Gold is watching the writer from his car and he begins to drive after him, doing a little shadowing.


In the fairytale land that was, we are shown multiple children play-fighting in the forest, Rumplestiltskin and Baelfire approach, the former suggests that his son go and join in. Bae obliges and Rumple goes to attend to some "business nearby" and walks away. Bae approaches the children, however, at seeing him, they all flee, knowing him as the Dark One's son. Baelfire walks away, saddened, as his father is seen walking into a nearby hut. Bae sits alone in the woods but is soon approached by Morraine, he tells her to be careful around him as she may not want to be seen with him. Morraine assures him that they're just scared of his papa, but she's not as she knows Bae won't let him hurt her. She says she doesn't think he's so bad anyway as she saw him on the battlefield when he stopped the fighting, which she compares to a miracle. Baelfire says that now he's getting worse by the day but promised he'd change back if he found a way, but he doesn't know where to look. Morraine suggests Reul Ghorm. saying that she heard about her when she was in the trenches, she says she is an ancient being that rules the night, the original power. "Bigger than papa or worse than papa?" Bae wonders, Morraine tells him that it's bigger than anything. They hear twigs snap and decipher that Rumple is returning, Morraine leaves the scene after wishing Baelfire good luck. Rumple asks Bae if his friend didn't want to say hello and Bae tells his father that he frightens them. He asks his son what there is to be frightened of, saying that they'll get over it in time. Baelfire points out the stains on Rumple's boots, it's clearly blood, he tells Bae that they need a new maid. Bae is shocked. "She heard us talking about the knife!" Rumple argues. "She was mute! She couldn't tell anyone!" Bae reminds him. "...even mutes can draw a picture..." Rumple points out. He leaves and Bae is horrified at his father's behavior.


At Storybrooke's nunnery, August is seen leaving whilst chatting to Mother Superior as Gold watches from the bushes. The two of them chat, he thanks her and they bid farewell. Mr. Gold approaches Mother Superior and she reminds him that their rent is paid in full, however, he tells her that he isn't there to see her about that. She bids him good day and walks away, however, he stops her by asking who the man who just left said he was and what he wanted. Mother Superior tells him that she doesn't have to tell him that and Gold tells her that he doesn't have to not double her rent. He asks again what August wanted. She says that he was seeking advice and counseling as he'd recently found his father after a long separation. Gold wonders if the happy reunion has already taken place. "No. He hasn't spoken to him yet," the nun informs him. Gold wonders why not and Mother Superior explains that it was a difficult parting and that there are many issues that need to be resolved between them. "I see..." Gold says.


Baelfire is seen in the Enchanted Forest, searching for Reul Ghorm, he sits down on the forest floor and places down his lantern. "Reul Ghorm? Are you there?" he asks. "If you can help me, please, make yourself known to me." Bae closes his eyes and a blue light shines from behind a tree, the Blue Fairy emerges. Baelfire is startled by her before asking if she can help him. She says she can and he asks how he knows he can trust her. She says that there is good magic and dark magic and that she's on the right side. He realizes that she's a fairy and she goes on to mention that Bae is not untouched by magic and that there's something dark in his life. Bae tells her that his father is the Dark One and the Blue Fairy tells Bae that she cannot make him the man he was before, but she can, however, send him to a place where he won't be able to use his powers. "Not a jail. I wanna be with him. Like it used to be," Bae says. The Blue Fairy tells him that she's not talking about a jail, just a place without magic. Baelfire is confused, thinking magic is everywhere, Reul tells him that it's everywhere in their world, and that his father's powers are specific to their realm. She tells him that he must go and escape the wretched curse. Bae is confused as to why he must leave but Reul tells him that it is the only way. She asks him if he could do it. "If it means I get my father back... then yes." The Blue Fairy commends him as being a very good son before telling him that he is the part of him that keeps him human, that little light inside of him that still glows, his love for him. She requests that he hold out his hand and Bae does so, the fairy hands him a glowing, magic bean. She explains that it is the very last one that is known to their kind as the others got away from them, she warns him to use it wisely. Bae inspects the bean and she tells him to follow wherever it leads him as it will save them both. The Blue Fairy flies away and Bae grabs his lantern, bean in hand, and runs.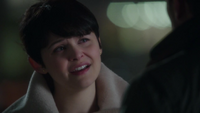 "And that... is what makes it all so sad..."
David is walking along the sidewalk and Mary Margaret soon emerges from around the corner, she carries on walking, ignoring him. He tries to grab her attention but she walks on, he begins to walk after her. He says that he thinks they need to talk and so she tells him to talk, he says he needs to apologize and she strongly agrees. She tells him to keep going and he explains that he didn't believe her and he didn't stand with her, she stops and turns to him. "You know, I will never forget that moment. The moment the world sort of blows you backwards and the one person you thought would always be there to catch you... he isn't there," she explains. He reminds her that it was her jewelry box, her fingerprints and the knife in her apartment, she exclaims that it was a set-up and David exclaims that it was a really good one. They stare at each other and he says that he's human and he fell for it, he apologizes, requesting that they move forward. She says that they can't, telling him that it's as though something in the world doesn't want them together. "But what? Dark forces?" he asks, regarding this as ludicrous. Mary Margaret replies, "Maybe," before going on to say that it's like someone keeps pouring poison between them and what she doesn't want is to have all of those good memories replaced by moments like that, when she looked at him and she saw he didn't believe her. He says he knows and that he is so sorry, she then says she knows. "But, I love you..." he tells her. "And that... is what makes it all so sad," she tells him. They both begin to tear up.
Act IV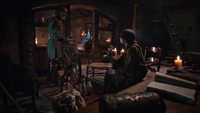 Bae has found a way.
In the fairytale land that was, Rumplestiltskin is spinning at the wheel, turning straw into golden thread. Baelfire soon rushes in, seeming to have big news for his father. He sits opposite the Dark One and tells him that he found a way to make things like they used to be, Rumple is silent and continues to spin. Bae says that he wants his father to come with him, asking him if he's heard of Reul Ghorm. Rumple looks at him, referring to Reul as the "Blue Star" and the "Blue Fairy", asking his son to tell him he didn't go to her. He says that fairy magic doesn't mix well with what he has. Bae explains that she can help them by taking them to a place without magic, Rumple laughs this off as preposterous, standing up and saying he'd be powerless. Bae points out that he'd be like everyone else, so it wouldn't matter, before mentioning that they would be happy. "We can be happy here," Rumple says, but Bae protests to this, saying that his father has been getting worse and worse. He promises Rumple that his idea can and will work. "You made a deal with me. Are you backing out?" Bae wonders. Rumple takes a long pause before answering, "No."

Mr. Gold knocks on a miscellaneous door before walking away, he stops when the door opens and Dr. Archie Hopper greets him. The therapist wonders if Gold is looking for the rent and Gold asks him why everyone keeps asking that. Archie approaches him and asks him if he wants to talk, Gold states that he doesn't know. Archie says that if Gold would like to get something off his chest, he is welcome to come in. Gold pauses before proceeding to enter Archie's office.

"A son?!", Archie asks Gold, stunned. The therapist proceeds to ask how old he is but Gold requests that they start with something easier. Archie obliges, going on to ask what Mr. Gold means when he says he may have found him. Gold says that he's acting the way he'd expect him to act and Archie takes this to mean that he recognizes him. Gold answers, "Maybe," before mentioning that he could just be seeing what he wants to see and doesn't know. Archie wonders if Gold's son would recognize him, but Gold explains that there was conflict and that he's not sure he's ready for a tear-soaked reunion. "So, he sought you out and now he's holding back? Maybe he's waiting to see if he's welcome or looking for a sign that all is forgiven?" he suggests. "He's not the one who needs to-" Gold exclaims, stopping in his tracks before calming down and stating that he thinks his son would still be very angry with him. Archie explains that anger between a parent and a child is the most natural thing in the world. "I think he might be here to try and kill me," Gold says. Archie is taken aback and Mr. Gold proceeds to mention that he let him go, he spent his entire life since trying to fix it and now he's there. He says that he just doesn't know what to do. Archie advises his patient to be honest, tell his son the truth and ask for forgiveness. Gold says that honesty's never been the best color on him but Archie tells him that there is no other way.

Across town, August is wandering in the woods. Mr. Gold is seen emerging from behind another tree and the two men stare at each other from over the woods. Gold approaches August and states, "I know who you are." August walks closer and Gold says that he also knows what he's looking for. August says that he supposes all the lying can stop, "...papa."
Act V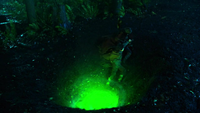 The portal opens.
In the fairytale land that was, Baelfire and Rumplestiltskin are walking through the woods. The latter asks where they're going and what sort of new land they're going to end up in, wondering what kind of world is without magic. Bae lifts the magic bean in front of Rumple's eyes, "A better one," he tells him. Bae throws the bean on the forest floor, he and his father then stare at it, patiently. Soon, a swirl of bright, green magic ensues, spinning in a whirlpool of light and power, the wind begins to blow harder and the spiral grows bigger and bigger, spinning faster and faster until a fully-fledged portal is born, a portal to a new land. Rumple is shocked and Bae exclaims that they have to go through, Rumple protests, saying that he doesn't think he can. Bae tries to go in but Rumple holds him back, yelling that it's a trick and will tear them apart. Bae promises that it will be okay before a sudden flash is seen and Bae slips, falling down the minor hill that leads into the portal. Rumple prevents him from going in by holding on to his arm, Bae calls out for his papa. Rumple stabs his dagger into the soil for stability, grasping the handle, his son asking him what he's doing. Bae begs his papa to let him go as it won't stay open for long. "I can't! I can't!" he exclaims, Bae tells him that it's the only way they can be together. Bae begs him more and more but Rumple keeps telling him that he can't. "You coward!" Bae yells, insulting his papa. Rumple seems saddened by this and his grip accidentally loosens. Baelfire calls out for his papa as he falls into the portal and the green magic dissipates. The portal is gone. Bae is gone. Rumple is not. The wind stops and Rumple sits in the crater created by the portal, he calls out for Bae but his son is gone. He inspects the crater and begins digging at it with his hands, crying out for Baelfire, telling him that he's sorry and he wants to to come with him. Rumple digs at the portal, driving himself mad.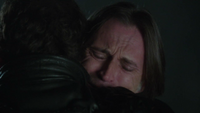 A joyous reunion.
And now, in Storybrooke's forest, Mr. Gold is faced with August, or, as he now thinks of him, his beloved Bae. Gold tells him that he was right, that he was always right - "I was a coward and I never should have let you go." August remains silent. "I know it's little consolation, but... ever since you left, ever since you crossed the barrier of time and space, with every waking moment... I've been looking for you." August is silent still and Gold goes on to say further that, now that he's found him, he know he can't make up for the past, for lost time, all he can do is ask him to do what he's always done and be the bigger man. Mr. Gold tears up, begging his "son's" forgiveness, he apologizes repeatedly, showing genuine repentance. A crying August hugs Gold and the man cries more, asking if he's forgiven. "I forgive you, papa," August assures him. They pull out of the hug and Gold brings up that August was looking for the knife. He explains that he thought if he still had it, it would mean that he hadn't changed. Gold suggests that they go find it and see.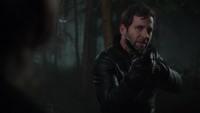 Fail.
Soon, August is digging at the forest floor with a shovel, Mr. Gold telling him that he buried the knife there soon after Emma came to town. He says that things were changing and that he didn't want to risk Regina finding out. August nods and continues digging, Gold tells him that it should be around there somewhere, kneeling down and inspecting the earth. The pawnbroker soon pulls out some wrappings and unfolds them, revealing the dagger with in them with the emblazoning of "Rumplestiltskin". He picks up the knife and presents it to August, telling him that he'd like for him to take it and destroy it like he always wanted to. August looks from Gold to the knife, the latter says that he's found his son and doesn't need it anymore. "I chose it once... now I choose you," he assures him. August cautiously takes the dagger from Gold and comments that it's remarkable, Gold nods. August raises the knife and aims it at Gold, Gold is confused, "By the power of the darkness," August begins, "I command thee... Dark One." Mr. Gold asks if he's trying to control him, August exclaims again, "I command thee, Dark One!" Gold looks at August and realizes something based on his actions, "You're not my son." August is at a loss.
Act VI

"There is no magic in this world!"
"You're not Baelfire..." Gold tells August who is still pointing the Dark One's knife at him. He asks him why he would say that, giving an excuse. Mr. Gold exclaims for him to stop, telling him it's over. "My son would never try to use me. And he would know that this knife cannot harness any magic in this world because there is no magic in this world! That's why you chose this place... you didn't want me..." he grabs the knife, "...dabbling." Gold takes the dagger from August's hands. The latter asks him why he would bury a useless knife, however, Gold argues that it still cuts through flesh rather nicely. The pawnbroker tells the writer that it's time for answers and asks him his reason for all the theatrics, wondering why he didn't just come to him. August explains that he needed Gold to work for it, to want it so bad he would ignore what his eyes were seeing. He asks if he even looks like Bae at all but Gold merely responds by asking August how he knows about the knife.
August says that he hears things but Gold advances on him with the knife, saying no one in Storybrooke knows of it, however, August points out that no one in Storybrooke remembers. "And yet you do... you're from there, aren't you? From my world," Gold realizes. August points out that the fact that he's asking the question means he knows the answer. "Well, now that that's settled..." Gold runs at August, slamming him up against a tree, pinning him there, holding the knife to his throat. He asks the writer who told him about the knife, August retorts that it was a little fairy. Gold asks him why he wants it, "If you know who I am, and you know who I am, the chances of you surviving this little encounter are pretty slim. So, why take the risk?" "Because I'll die anyway," August admits. Gold is confused but August explains that he's sick, he's sick and he needs magic. He says that he was going to get the savior to believe but that he doesn't think he'll make it long enough to see that happen. Mr. Gold tells August that Emma trusts him and that that might be enough, "Try again." He lets August go and the writer is confused as to why he's allowed to live. Gold says that August will die either way, but by letting him go free, he may get something out of it. Mr. Gold walks away and August remains silent.


Back in time, Rumplestiltskin is calling out for Reul Ghorm, asking her to show herself. The Blue Fairy flies down to Rumple and the Dark One asks her how he is to follow Bae. The Blue Fairy says that he had the way but didn't take it, telling him that there are no magic beans. He exclaims that she's lying but she assures him that she does not do that, he exclaims, "A lie!" once more. Reul tells him that he will never make it to the other world but Rumple bets against this. Rumple begins to guess ways out but the Blue Fairy tries to stop him, he suggests, "A curse?" and she pauses. "Of course you would think of a curse instead of a blessing. Your magic is limited by its own rotten core, Rumplestiltskin!" Reul shouts. She tells him it would cost a great price but Rumple points out that he's already paid one, the Blue Fairy asks him if he'd be willing to give up this world for the next because that is how great the price is. He asks her if that's what she thinks but she argues that she'll be happy knowing that the curse would be beyond his abilities. "Oh, really? But I've got all the time in the world and I will do nothing else, I will love nothing else, I will find a way... you took my son... but I will get him back," Rumple promises her. She argues that she didn't take his son but he yells otherwise. "You drove him away," she tells him. At this, an angered Rumple swipes at her with his knife, multiple times, however, she manages to swoop away, dodging it. The Blue Fairy flies away, "I will find him!" Rumple yells, "I will find him! I will find him..."



Sidney talks a bunch of baloney.
Emma walks into the sheriff's station, surprised to see that Regina is already there. The sheriff approaches the mayor and the latter congratulates her, telling her that there's about to be a big break in her case. She explains that she has a confession regarding Kathryn but that she needs her to listen to the whole explanation to understand it. Emma is speechless and Regina hops off of the desk, telling Sidney that he can come in. Emma, under the impression that Regina was about to confess, is surprised when Sidney Glass walks into the office. Regina tells Sidney to tell Emma what he told her. "It was me," he says, "I confess. I abducted Kathryn and I kept her at an abandoned summer home down by the lake. I bribed a lab tech to get me the heart from the hospital and I used the same person to doctor the lab results." Regina tells him to now tell Emma the other thing. Sidney goes on, "I borrowed some skeleton keys from Regina and I planted the knife in your apartment." Regina casually mentions that she cannot help but feel personally violated by the fact that her keys were used. Emma wonders why he would do this and Sidney explains that he planned to find Kathryn and be a hero, subsequently getting the inside track on the biggest story ever to hit the town. He mentions he'd get his job back plus a novel and a movie, etc. He says he knows it sounds crazy. "I don't know about crazy. But false, yes. False as hell," the blonde tells him. He explains that he has maps to the house where the chains are with a lot of DNA evidence, fingerprints and the like. A nonchalant Regina comments that Sidney has clearly suffered some sort of mental break and hasn't been himself for some time. Emma agrees, saying it's like his words aren't his at all (clearly implicating Regina). Regina comments again and Emma hastily requests a word in the hallway, Regina obliges, leaving the office.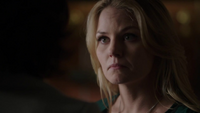 "I'm taking back my son!"
In the hallway, Emma tells the mayor that Sidney just told the biggest load of crap she's ever heard. Regina says that she's pretty sure that that's not true. Emma is outraged that Regina manipulated Sydney, knowing he's just taking the fall for her crimes. Emma tells her she now doesn't care what happens to herself, only caring about Henry and that Regina no longer bothers him before advancing forward a few steps on the corrupt mayor, who gives a snide remark before Emma tells her to be quiet as she is talking. Emma then vows to regain the son she gave a decade ago from the custody of a sociopath.
Trivia
The title card features August riding through the forest on his motorcycle.
This is the first episode to be introduced by the phrase, "Previously on Once Upon a Time..."
Production
Reception
Ratings
After two weeks of reruns, this outing returned to improved numbers, going up to a 3.0/8 among 18-49s with 9.08 million viewers tuning in and once again winning its timeslot, although CBS' The Amazing Race, which came in second, had more viewers in the same time period. It also beat the first hour of Fox's 25th Anniversary Special.
In Canada, the episode finished in fourteenth place for the week with an estimated 1.473 million viewers, an increase from the 1.409 million of the previous episode.
Reviews
The A.V. Club writer Oliver Sava graded the episode with a C. Complaining that nothing "of consequence" has occurred for most of the season, Sava commented that the series "is following the Lost formula of answering a question with more questions, but that's frustrating when the characters and stories are less than captivating. The best thing this episode does is explicitly discuss fairy tale business in Storybrooke, which instills faith that the two storylines will intersect at some point. It's just taking so goddamn long to get there."[1]
IGN columnist Amy Ratcliffe graded the episode 7 out of 10, and called Baelfire's quest to rid his father of powers "heartwarming," as she liked "knowing there was a point where Rumplestiltskin could have changed his fate." She did wish however that there had been a better payoff about August's real identity. Ratcliffe was disappointed with the revelation of August not being Rumpelstiltskin's son, commenting that it "should have delivered a big punch, but it swung and missed." She was "impressed" with Robert Carlyle's "stellar" performance, and concluded her review by noting the episode was "entertaining, but it's not riveting as often as I hope it will be. I give points to this episode for some quality scenes and genuine emotion, but that can't carry the plot. The rest of the season is going to be an interesting ride.[2]
Gallery
Gallery of photographic stills released to promote the episode.
External links
References
↑ "Once Upon A Time: "The Return"", by Oliver Sava, AVClub.com, April 22, 2012.
↑ Once Upon a Time: "The Return" Review, by Amy Ratcliffe, IGN (April 23, 2012)