Changelings
Airdate
November 27, 2016
"Changelings" is the 120th episode of Once Upon a Time.
Summary
In the fairytale land that was, Rumplestiltskin collects Jack and Jill's son as bait to lure a powerful being to him while, in the present, he tells the Evil Queen that she must kill Zelena, leading her to a decision that will change her relationship with her wicked sister forever. When Belle discovers her husband's plans for their son, she convinces Emma and Hook to help her steal squid ink that can immobilize him; as a result, the beauty is left to make a sacrifice that will affect the lives of everyone in Storybrooke. Meanwhile, Jasmine finds a genie-less lamp that she hopes to use to save Agrabah, and Aladdin finds a way to be her hero.
Plot
Previously on Once Upon a Time...
Out on Main Street, Emma looks down as her she deals with her newly developed hand tremors, and is next seen battling a hooded figure until being stabbed in the chest. ("The Savior") Emma reveals to Hook that in her vision she dies. ("Street Rats") In the Dream World, Belle is confused as to what is going on, but Morpheus believes that she knows, proceeding to address her as "mother". He reveals that he's there to warn her to not let Rumplestiltskin destroy them like he did his last family. ("The Savior") During a confrontation in Zelena's farmhouse, Belle makes it clear that she will never let Rumple set eyes on their child; however, Rumple reminds her that he takes children, not the other way around. ("I'll Be Your Mirror")

ONCE UPON A TIME
Act I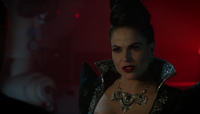 The Queen comes to join the fun.
A door bursts open as a nun comes running through a dark room, fearing for her life. She makes a turn, coming to a dead end, but is started to find none other than Rumplestiltskin standing there before her. She jumps back in fear, as the Dark One assures that there's no where to hide from him. However, the nun believes that whatever Rumple is doing, the Mother Superior won't let him get away with it. The Dark One does not answer, but instead waves his hand, disappearing the nun in a puff of red smoke, and then turning and re-appearing her tied to a pole. "That wingless glowbomb won't stop me," the Dark One assures, "None of you will." "What is it between you and fairies?" a voice calls out. Rumple turns around and sees that the Evil Queen has joined him. "You never told me why you despise them so much." Rumple wants to know what the Queen is doing here, but she asks if it's not obvious; she came to join in the find. "Oh, I thought you'd be happier to see me," the Queen adds, taking notice of the Dark One's blank stare. Rumple assures that he will be, once she's taken care of that problem they've discussed.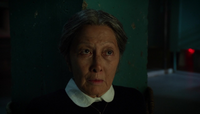 A message is sent, via fairy.
The Evil Queen realizes that he means Zelena, and laughs. "You don't really expect me to kill my own flesh and blood for you?" But Rumple replies that that depends on how serious the Queen is about these "new beginnings" she says she wants because he thinks one of them involves him. Before the Queen does anything though, she wonders why she should believe that Rumple has at long last gotten over Belle, and he answers that he's finally come to his senses. "Belle won't accept me for who I really am." He continues that he knows the Queen never really wanted to rule alone, and now she will no longer have to. "There's just one tiny speck of green in your way." The Queen takes all of this into consideration, and with that, Rumple turns away, having his own problems to attend to. "Which is what exactly?" the Queen wonders, as the Dark One approaches the tied-up nun. He removes a vial of sparkling dust from his coat pocket, revealing that he's going to send a message via fairy. With that, he sprinkles some of the dust, and soon enough the nun's face ages tremendously. The Queen watches in absolute shock, as Rumple grins.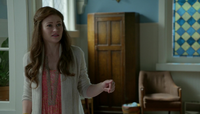 A message that Belle receives.
The nun is next seen being wheeled into the convent, depressed at what she has become. The Mother Superior lets go of her hand and begins pacing, and Emma asks what of this. Blue reveals it to have been the Dark One with the Evil Queen. "They're together." Emma recalls that she once used magic like this to speed up Zelena's pregnancy (see "Birth"), and Belle proceeds to speak up, believing this to be about her. She states that Rumple is going to do the same thing to her so that he can use the Shears of Destiny to cut their son's ties with his fate. "And when that happens he can take him from me, he can corrupt him, even worse..." Hook wonders if that truly is Rumple's plan then why would he announce it to them, and Belle thinks it's because he wants her to know what he's doing. "He's trying to scare me so I'll go back to him, which I won't do. I can't do!" She speaks to the group that there must be a way to stop him.


Flash to the Enchanted Forest of the past, inside of the Dark Castle. A set of doors swing open, where Rumplestiltskin arrives home. Belle greets him, revealing that she did the wash and polished the silver like he asked, but he doesn't seem to care all that much, quite frankly, instead just dropping a basket down on the table and telling her that now she can take of this. Cries are heard coming from the basket, and Belle realizes that it's a baby. "Where did it come from?" the beauty asks, "Where are its parents?" Rumple states that they no longer matter, however, and that the child is his now. As Rumple looks through a shelf of scrolls, Belle asks for clarification, learning that the Dark One stole the baby. "Yes," Rumple confirms, "Scandalous, isn't it?" Belle, meanwhile, goes to shush the crying baby, picking it up to rock. She asks what kind of beast steals a child from its parents, adding the question of what happened to Rumple to make him like this.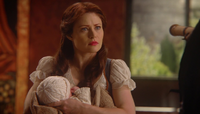 Belle fears what is to become of it.
"You do best to stop asking so many questions," he answers, then finally coming across the scroll that he had been searching for. "There it is," he says, beginning to walk away, "I have work to do, and I'm not to be disturbed." Belle wishes to at least know the baby's name so she can sooth him, but she then realizes that he didn't even bother to find out. "Well why would I?" he exclaims, "A name's a special thing. You don't waste it on something you have no intention of becoming... attached to." "What do you mean?" Belle questions, wanting to know what the Dark One plans on doing with this child. However, he doesn't answer, instead informing that he will be back for it at sundown, and tells her to not even think about trying to hide it because he'll find out. Belle tries to argue back, but the Dark One doesn't let her. He proceeds to walk away, leaving the beauty worried for this child's fate.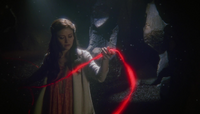 Follow the strand.
Return to the present day, over in the Storybrooke Free Public Library. Among the many shelves of books, Belle is seen looking through them all. She reads off the names of some, and soon comes across one titled Manual on Defeating the Dark One. She removes it from the shelf to get a better look, commenting that she's never seen this one before, and so she opens it up. "Follow the strand," she reads aloud, but is confused as to what the strand is of. She closes the book, but upon looking down at the ground, a glowing red strand awaits her. Intrigued, Belle places the book back on the shelf and reaches down to pick up the strand. With that, she begins walking, following it.
The strand takes Belle down to a warped version of the caves underneath the library. She continues to follow though, soon coming across a rock podium where none other than the Shears of Destiny rest. She goes to pick them up, but they disappear instead, and so she is left to just look around. It doesn't take long for her to deduce that she's in the Dream World again.
A voice calls out though, correcting that it's "our" Dream World. Belle turns around, finding herself being greeted by the aged version of her son. "Hello mother," he exclaims, and Belle happily calls out to him as well, then embracing him in a hug. "Yes," he confirms, but states that he's there to warn her that the glowing thread she followed is the strand of his fate; it's what Rumple plans to cut with the shears when he's born. Belle assures that she's trying to stop him, but she doesn't know how. Her son, however, states that she knows the answer to saving him is already inside of her. It's right there in front of her; she just has to be willing to see it, and do so quickly, or any hope of protecting him will be cut short. "Just like my fate." With that, he reveals the shears, and uses them to cut the strand.
Back in the library, Belle wakes up, having fallen asleep at a table with a large stack of books. She doesn't know what to make of all this.
Act II
"Look at these grades. I think they're finally getting it," Snow exclaims, as she and Jasmine grade papers in a booth at Granny's Diner. Jasmine, however, isn't as enthusiastic, something that Snow starts to pick up on. "Is something wrong?" she asks the fellow princess, but Jasmine states that she would feel silly saying anything with all that Snow is going through. Snow says it's okay though because they're friends, and so Jasmine admits that it's Aladdin; he might have found something to help locate Agrabah. She reveals that it's a genie lamp, though she is unsure how much Snow would know about that. Snow reveals that she knows a little, as her father once found one. (see "Fruit of the Poisonous Tree") "Then you know how unpredictable genies can be. How all their wishes come with a price." Snow pieces together that Jasmine is worried about what the price could be if she wishes the genie finds Agrabah, and Jasmine worries about what she's to do. "Don't you remember the story you told me the first day we met?" Snow says, "About the princess who didn't embrace the hero she was meant to be." (see "Strange Case") "You mean the story about me?" "Yes I do." Snow assures Jasmine that it's never too late to be a hero, and this might be her chance. Jasmine contemplates this.


Meanwhile, Belle is catching up Emma and Hook back at the library. She reveals that in her dream, her son told her that the answer to stopping Rumple was right in front of her, but didn't say where. "This was the book you were reading?" Emma questions, taking a book from the beauty's hand, and Belle confirms this. Emma examines the book for a minute and states that she doesn't think a spell for the removal of hair is going to help them, but Hook then takes the book. He states that it's not the spell that's going to do it, but the book itself, or rather the ink it's written in. He continues that he'd be a poor excuse for a pirate if he didn't recognize squid ink when he saw it. "Squid ink," Belle realizes, "it can stun Rumple." Hook confirms this, stating that while he's held, they can take the Shears of Destiny from him. Emma says that she can use her magic to extract the squid ink, but the question is how they dose him. Belle suggests that she do it, stating that the Dark One is doing all of this to force her back to him, and if that's what he wants then that's what she's going to make him think she's doing. "Sorry, Belle, but no," Emma replies, pointing out that it just gives Rumple the opportunity to use his magic to speed up her pregnancy. Hook agrees, stating that her dream got them this far, but now she can leave the rest to them.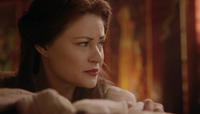 Reading about heroes gives Belle an idea on how to save this baby.
"But Gideon was unafraid," Belle reads, in the Enchanted Forest of the past, "He drew his sword and turned to face the evil sorcerer, ready to save the people he loved." The baby that Belle had been left to care for coos, and the beauty smiles, seeing that he really likes this. She puts the book down, stating that she did too when she was little; she reveals that it was the first book that her mother ever read to her. (see "Family Business") As the baby starts to fall asleep, Belle tells him that she used to tell her mother that when she grew up she would be a strong, brave hero, just like Gideon in the book. "Maybe you could grow up to be like home someday. Wouldn't that be wonderful?" However, she remembers that the baby will only get the chance to if they figure out what Rumplestiltskin is planning before the sun goes down and he takes him away. "Which, now that I've calmed you down," Belle says, as she stands up and picks up the sleeping baby in the basket, "maybe we can do that." With that, Belle sets off through the castle.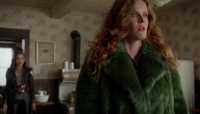 The sisterly bond between Evil and Wicked is tarnished.
Zelena walks through her farmhouse, carrying Robin, back in the present day of Storybrooke. She seems to be going to put her baby girl down for a nap, but the Evil Queen then makes her way through the doorway. "Knock, knock," she exclaims, and Zelena joyfully turns around, pointing out to her daughter that it's her "evil auntie". She asks the Queen if she would like to hold her niece, believing Robin's missed her, but the Evil Queen turns down the offer. "In fact I was hoping to catch your during nap time." Zelena wonders why this is, why the Queen is here, and soon enough she learns that it's because Gold sent her. Immediately, the tension in the room changes, as Zelena realizes she's being betrayed by her sister. "So what now?" she asks, and the Queen suggests that she puts the baby down. Looking out for Robin's safety, the Wicked Witch chooses to listen, kissing her on the forehead. "Mummy loves you," she says, placing the girl into her crib, and she turns back to the Queen. "So this is it," she says, but the Evil Queen suggests that they take this outside. With that, she poofs the two away in a puff of purple smoke.

Regina arrives to save the day.
The two sisters then re-appear on the outside of the farmhouse, the Wicked Witch having been blindsided. "Enough games," the Evil Queen exclaims, "Let's end this." With that, she forms a fireball in her hand and throws it at her wicked sister, thus flinging Zelena into the air and slamming her against an old shed. The Queen revels in this, approaching Zelena as she's trying to get herself together; she mocks that it seems evil does beat wicked, and proceeds to tell Zelena goodbye. As she goes to choke her though, the Queen finds herself being restrained. "My heart," she realizes, but a voice calls out that it's not her heart. "Mine." It's Regina, standing a few feet behind the Queen, clenching her own heart in her hand. Zelena is relieved to see the better half of her sister, but the Evil Queen states that she can't control her with that. Regina assures that she doesn't have to; she just has to crush it. The Queen doesn't think Regina would do it though, not for Zelena, but Regina decides to test this theory and begins squeezing her heart, bring immense pain to the Queen.

Could one sisterly bond be salvaged after all? Stay tuned!
She gives up, and Regina decides to move forward, demanding to know why the Queen would do this. Zelena speaks up that it was Rumplestiltskin making her pick between the two of them. Regina smirks at this, but the Queen simply calls Regina out for being jealous. "You think he cares for you?" Regina wonders. She points out that Rumple lied to her because he knew that the Queen's revenge wasn't enough. Regina realizes that the Queen still has a hole in her heart, just as she did when she first came to Storybrooke. "You don't know what you're talking about," But she does. Regina finishes that the Evil Queen was so desperate to fill this hole that she actually believed Rumple. "You're wrong!" Regina tells the Queen to go ask Rumple and find out because, after all, they're done with her here. Realizing she's been defeated, the Queen disappears in a puff of smoke. Zelena, meanwhile, smiles at the fact that despite everything, Regina came back for her.


Across town, meanwhile, Hook enters the pawn shop where he finds himself greeted by Rumple as the Savior's "lapdog". "Come to pick out a new collar, have we?" But Hook states that he's come to stop Rumple from ruining another one of his son's lives, just like he did with Bae. Rumple slams his book shut though, putting it down, asking Hook if what he's saying is a fact. He proceeds to ask the pirate what made him think it was a good idea to provoke the Dark One, and he raises his hand to begin magically choking him. While Hook struggles to breathe though, Emma comes around from the back and throws the magic squid ink at Rumple, thus defeating his magic. "It's called a distraction," the blonde exclaims, proceeding to ask her boyfriend if he's alright, which he confirms he is. "Let's get searching," he says, digging through Rumple's jacket. However, the Dark One tells him that he'll remember this. Hook chooses to ignore his foe, telling Emma that he's not carrying the Dark One's dagger or the Shears of Destiny, and so the Savior tells him to keep looking up here while she searches in the back. The two then split up, Emma going into the back room where she begins rummaging through Rumple's things.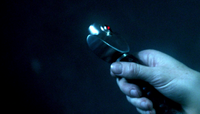 Emma's vision gives her a new clue regarding her death.
However, upon opening a drawer, Emma is hit with a flash. She collapses to the floor, and Hook quickly runs to her aide, having heard her fall. Emma ignores him though, as flashes begin going through his head...
On Main Street, Emma and a hooded figure wield swords, battling one another. She next finds herself being impaled in the chest. ("The Savior") However, something's different this time; she sees the handle of the sword, featuring a round, red gem.
Emma snaps out of it as Hook gets down to ask her if she's alright, and so she reveals that she had another vision. Hook had thought those stopped, as did Emma, against Hyde. She tries standing up, but finds herself falling again, and Hook catches her. "Are you okay?!" he asks, once managing to get her to her feet, but Emma admits to not knowing if she is or not.
Meanwhile, in the front room of the shop, the squid ink finally wears off and Rumple is able to move once again. He looks back, seeing Emma and Hook are no where in sight, and he proceeds to walk away, exiting the front door of his shop.
Act III
Belle is seen flipping through books in the library when, unbeknownst to her, Rumplestiltskin appears. He comes up next to her though, and she finally starts to sense his presence; she jumps back in fear. "No," she exclaims, wondering how he got here, but Rumple questions if Belle really thought dried squid ink could hold him. "I'm far too powerful for that now." Belle is just depressed now though; she turns to her husband, telling him that she knows he wants her back, but it's just never going to happen now. But Rumple knows this now, as it's something he's come to accept rather recently. However, he states that he cannot lose another son. "I won't. Not if I can stop it." With that, he holds up a vial of magic he plans to use to accelerate Belle's pregnancy, and she looks at it, absolutely frightened. "No..." she exclaims, backing away. She heads for the elevator, pressing the buttons for it to open up so that she can get away, looking ever-so-fearful at her evil husband.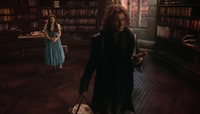 The Dark One's evil scheme of the past is to be seen through.
In the Enchanted Forest of the past, Belle quietly enters the Dark Castle's library, basket with the baby in tow. She approaches a table with the scroll laid out, and places the baby down, who lets out a small sound. "This is fairy language," Belle realizes, upon looking at the scroll, and so she picks up a piece of paper and dips a feather in some ink. The begins making some translations, speaking aloud to herself that it's incantations for someone called the Black Fairy. However, Belle is left to wonder what Rumplestiltskin would want with her, and she turns to the baby, wondering what that has to do with why he took the child. "That's for me to know, and you never to find out," Rumple exclaims, appearing next to the beauty, taking the scroll and the translations. Belle is startled by her master's appearance, and realizes that he knew she was going to do this. "Not only did I know, I was planning on it," the Dark One reveals, as the baby is starting to cry. "You really think I left the tower door open by accident?" He tells Belle that he doesn't speak fairy, but that he doesn't need to when he has her around. Belle refuses to let the Dark One hurt this baby, but before she has a chance to retrieve the basket, he uses his magic to poof it into his hands. "The child is no longer your concern," he tells her, adding that he thinks she should stay here for a while, as he wouldn't want her getting any ideas to try and stop him. With that, he exits the room, magically locking the doors behind him. Belle runs for it, trying to escape, but realizes it to be of no use.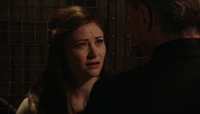 Can Belle still bring out the man behind the beast?
The elevator doors finally open, and Belle gets inside. However, before they're able to close all the way, Rumple is able to stop them. Belle looks at her husband, never having expressed this amount of fear of him before. She asks why he's doing this, but Rumple believes that after all this time she must know: he will never be the man she thinks he can be. "It doesn't have to be like that," she tries, but he's afraid that it does. "When we met, I told you I was a difficult man to love," he recalls ("Skin Deep"), "but more than that. I think... I think I'm a man no one can love." Rumple thinks that with this son he can start over, and maybe he can love him. But Belle shakes her head. "Not like this," she exclaims, "Don't give up, Rumple." She continues that she never even wanted him to be perfect; she just wanted him to try. He argues that he has though, and to look at what's happened. "I've only ever pushed you away." He looks at the vial, stating that he's afraid that all he really has is magic, but Belle retaliates that while it may get him his son there will still be a price. "You won't just push me away again," she states, "You'll lose me forever. Is that a price you're willing to pay?" Rumple contemplates this for a moment, and begins lowering the vial. He's made up his decision, and walks away, leaving Belle be.
Act IV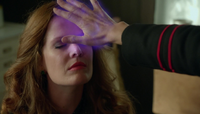 Some wounds are healed...
"Alright, hold still," Regina says, as Zelena is sat down in the kitchen of her farmhouse. She proceeds to wave her hand over the Wicked Witch's forehead, healing a cut she received earlier. Zelena feels her forehead, grateful that it's healed; she thanks Regina, stating that after a scrap like that she doesn't think she could magic herself a glass of warm milk, let alone heal herself. "I'm lucky you happened by." Regina tries to clarify something about this though, but finds herself being interrupted by Zelena, who stands to her feet. She asks that she be allowed to go first, stating that she should have been the one to reach out and find Regina to apologize; however, Regina reveals that she didn't show up to apologize. Zelena is a bit taken aback by this, as Regina admits to have been hoping to find some magic lying around to reverse an aging spell Gold used.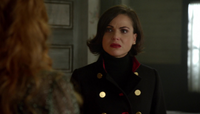 ...But others, not so much.
"You mean you came here to steal from me?!" But Regina wonders if she was supposed to think Zelena would share after everything she's done to her and her friends. The Wicked Witch wonders if that's what her sister assumed then why even bother saving her, Regina points out that that's what heroes do. "They save people, even the people who have hurt them in unimaginable ways." Zelena realizes that this is about Robin Hood, that Regina still blames her for his death ("Last Rites"), and Regina confirms this. Zelena wonders about forgiveness and redemption though, pointing out that Regina's been forgiven, that Regina's grown and changed, but she points out that Zelena isn't her. "I can never forgive you," she exclaims, "I can pity you. I can hate you. I can spare your life. But I can never forgive you." With that, Regina storms away, and Zelena is left in tears.



Aladdin goes from former savior to new genie.
Across town, meanwhile, Jasmine removes the stolen genie lamp from a satchel in Snow's loft. "You ready?" the princess asks of Jasmine, and she confirms that she is. With that, she takes a few steps back and proceeds to rub the lamp. An orange smoke floods from it, as they're all prepared to meet the genie inside, but they soon find there to be nothing but a set of cuffs on the floor. Aladdin reaches down to pick them up, while Jasmine simply doesn't understand. "Where's the genie?" Henry realizes that he's been freed, but Jasmine states that without the genie she can't use the wishes to get back to Agrabah. There's a moment of silence as everyone thinks about what to do next, but finally Aladdin speaks up. "Actually, I think you will," he says, before locking one of the cuffs onto his wrist. Jasmine gasps, questioning what he's doing, stating that he'll be a prisoner of the lamp. Aladdin assures that it won't be such a bad life though, as while some genies can be pretty insufferable, he knew a great one once. "And he's been free for a while now, so maybe I can be like him." Jasmine feels bad though, but Aladdin assures her that either way they should at least find out. With that, he locks on the second cuff, and disappears in a puff of smoke, inside the lamp.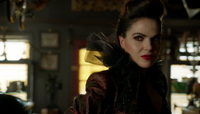 The Queen comes to realize that she is of limited value to Rumple.
"You didn't use it..." the Evil Queen exclaims, upon seeing Rumple put away the vial of magic he was meant to use to accelerate Belle's pregnancy. She approaches Rumple, the two of them in the pawn shop, and the Queen realizes that Regina was right: the Dark One was just using her to get rid of Zelena. Rumple tells his ally that if she's looking for retribution then she's come to the wrong place, but she decides to guess why he didn't use the magic on Belle. She guesses correctly that the beauty gave Rumple some speech about the man in the beast. "Or whatever she claims to see in you." The Queen wonders if Rumple really was the person Belle wanted him to be today, then how long would that really last. "Soon enough she'll realize, as she always does, that's not who you really are." The Queen continues though that this time Belle will also have a child to protect, and she'll do what she should have way back when; she'll go and take the boy with her. Rumple slams a box shut though, as the Evil Queen laughs at the Dark One because he'll be alone just as it was the first time with Baelfire. However, Rumple tells the Queen that if she really wants to know what failure looks like then to take a look in the mirror. "Do not dare question me again," he tells Her Majesty, "Now go. We're done." With that, the Queen leaves, and Rumple is left to think about if he did the right thing in leaving Belle be.


Return to the Enchanted Forest of the past where Belle is still banging away at the locked tower door, trying to break free. She tries, and tries, and tries, but it's starting to seem of no use; however, she looks underneath the crack of the door where she sees a blue light emanating. "Hello?" Belle calls out, confused, "Is someone out there?" She begs for help, once again calling out another "hello", but then she sees a little slot that she is able to slide open. Sure enough though, help arrives, as the Blue Fairy comes flying on through. Upon making herself full size, Blue finds herself being greeted by Belle, who recognizes her to be a fairy. Blue introduces herself properly, and assumes that, by the looks of things, Belle is another soul being held captive by the Dark One. Belle confirms this, but tells Blue that she needs the fairy's helping getting her out of here, revealing that Rumple has a child that's in grave danger. Blue knows this though, explaining that that's why she's here.
She's known since she sensed the fairy incantations being read, and they need to stop him before he can summon the Black Fairy. Belle wonders why this is, having thought all fairies were good. Blue states that she used to be once, and when Belle asks what happened, she states that no one knows exactly what happened, just that her heart blackened and she stopped defending the children she was meant to protect. "She started stealing them instead, which means that child is in grave danger. Rumple is trying to use it to lure her." Belle still wonders why though, what could possibly be so important that he'd want from her. Blue wishes that she knew, but right now they just have to get Belle free so that she can save that child. "Me? But I don't have magic." "Well that's precisely why it has to be you. My magic can't save him." Wit that, Blue waves her wand to unlock the tower doors; she tells Belle to hurry, for there is not much time. The beauty tells the fairy to wish her luck, as she's going to need it. With that, she sets off.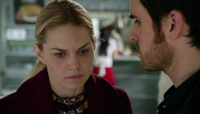 Emma discusses her returning visions...
"And now I should be relieved?" Belle wonders, in the present day at the diner. "No one would blame you for still worrying," Emma replies, stating that while Gold did the right thing today, it doesn't mean he'll do the same tomorrow. Hook agrees, adding that they also have to make sure the Dark One won't use that magic on Belle, and they will. "Here you go," Granny exclaims, handing Belle a cup of chamomile tea, "Soothes the soul." Emma thanks Granny for this, and Hook tells Belle to drink up, stating that it helps calm the nerves. He then excuses himself and Emma, as the couple stand to the side so that Belle can drink away. He asks the Savior if she's going to tell him what happened back in the pawn shop or if he's going to have to guess. Emma decides to admit the truth though, that she saw her death again. "It was the same details, the same figure.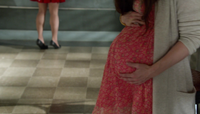 ...But Belle's suddenly accelerated pregnancy turns into the main focus.
Everything was the same... except this time there was something new." She states that the sword that's used to kill her had a red jewel at the bottom of the handle, and that it was glowing. Hook wonders what brought the vision on, but Emma doesn't know. She suggests that it might have been just being in the shop, and that maybe there was something in there. However, before they can discuss this further, they hear a smash. Turning around, they see that Belle has dropped her teacup. Emma wonders what happened, but the beauty realizes that there was something in the tea. All of a sudden, her stomach begins to expand. "No, no, this can't be happening..." Belle realizes, her pregnancy currently accelerating to full term. Emma and Hook watch, complete shocked. Belle pleads for it to not be, but it is. "No..." she exclaims, one last time.
Act V
Enter another flashback, where Rumplestiltskin arrives in a clearing out in the woods of the Enchanted Forest. He places down the basket with the crying baby inside, and begins to lure his prey. "Let the night sky tremble as the dark stars shall fall," he calls out, proceeding to tell the Black Fairy to awake and heed his call. The Dark One watches as a small purple ball of light flashes through the air; the baby continues to cry during this. Unbeknownst to the Dark One, however, Belle has found him, and currently waits in the bushes. Soon enough, the small ball of purple takes a human form, and the Black Fairy is seen crouched down, evilly grinning at the baby she is prepared to nap. "I'm afraid I can't let you get ahold of that baby," Rumple exclaims, revealing himself to the evil fairy, "Not yet, anyway." The Black Fairy asks who dares to summon her, but she's given no chance to react as Rumple throws a magical substance at her. He quickly reveals this to be squid ink, as she is frozen in her tracks. "Nasty stuff."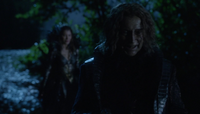 A familial revelation.
The Black Fairy immediately recognizes her captor to be Rumplestiltskin, and he's surprised to see that she knows who he is. "Oh, who hasn't heard of the Dark One?" she asks, then informing that if he's heard of her then he should know that squid ink won't hold her long. Rumple knows this though, revealing that that's why he has this; he proceeds to reveal the Dark One's dagger, but the Black Fairy questions how he plans on using that on her. Rumple tells the fairy that it all depends on how she answers one simple question. He recalls that the Black Fairy steals babies, from their mothers' arms, more precisely. "So why of all the babies in all the realms, why did you abandon one child who was actually yours?" It's then that the Black Fairy realizes what's going on. "No..." she utters, "No... It can't be." "Oh I'm afraid it can be... mother." The Black Fairy is in complete and utter shock as Rumple officially confirms himself to be her son. He states that she would have known that had she even bothered to give him a name, and now he demands to know why she abandoned him.
As Rumple and the Black Fairy are wrapped up in this conversation though, Belle decides to make her move and reclaim the stolen baby. The Black Fairy starts to laugh at her son, stating that it's funny the Dark One would ask such things. "Sometimes you have to choose power over love." At this point, Belle has gotten to the basket and picked up the baby; however, he lets out a cry, gaining Rumple's attention. This is just as the squid ink runs out too, and the Black Fairy is free. "Time's up," she tells her son, catching him off guard and grabbing him by the throat. "No more answers for you today. Guess you'll just have to keep on wondering... son." And with that, she shoves Rumple away from her, allowing him to hit the ground. The Black Fairy laughs at this, proceeding to run and fly away. Rumple gets up, not knowing how to feel; Belle speaks up though, stating that she understands now as he didn't deserve what she did, but sacrificing the life of an innocent child is not the answer, no matter how much pain he's in. "No one knows anything about my pain," the Dark One utters in response. With that, he poofs away.


Return to the present day, where Rumplestiltskin stands outside of the Storybrooke convent. He says to himself aloud that he should have known the Savior would bring his wife there, for wherever there's injustice in the world there's always a fairy. He begins to approach the comment, hoping to join Belle as she goes into labor; however, after getting so close, he sees that there's a magical forcefield in the way of him getting through. The Dark One puts his hands to it, seeing that there will be no getting through. "Fairy magic," he utters, but believes he may have found a way through it. He reaches into his coat pocket where he pulls out the Dark One's dagger. With that, he prepares to plunge it into the forcefield. Though it doesn't break through immediately, it's still a start.


Meanwhile, inside of the convent, Belle currently lies in a bed as she's going through the process of labor. Emma is by her side, holding her hand and giving her comfort. The beauty continues to push and breathe, push and breathe, as a nun sits at the foot of the bed to deliver the child. The camera focuses on this nun for a minute, as she goes about doing her job, and pans on upward to Emma. She's there to tell Belle to keep pushing, giving her the support she needs right now as she isn't getting it from anyone else. The nun nods, implying that so-far-so-good, and Emma continues to have Belle breathe as well. Belle follows the Savior's orders, but as the pain is becoming too much to bare, she goes unconscious...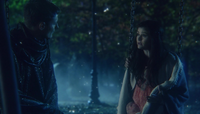 Belle learns what she must do to protect her son...
We return to the Dream World, in a cemetery at night. Belle is no longer pregnant, and she approaches a swing set where her soon-to-be-born son awaits. "I was afraid I wouldn't be able to find you," Belle says to the grown man, but he assures his mother that she will always find him when she needs to, then motioning that she sit on the swing next to him. "We don't have much time now," Belle warns, alerting her son that Rumple is coming and that he will use the Shears of Destiny. "So, please, if you know how to stop him you have to let me know." The man tells his mother that she knows what she must do though, and after a moment of taking this in, Belle realizes exactly what he is referring to. "No..." she utters, jumping from the swing. She tells him that she can't, that she won't, and that there has to be another way. But her son stands too to comfort his mother; however, he's only able to tell her that there isn't. "As you said, we're running out of time." Belle is absolutely heartbroken by this revelation, and she immediately embraces her son in a hug. She pulls him in tight, not wanting to let go. "I love you," she exclaims, "I love you more than anything in the world." She is now beginning to cry, as her son assures that he knows this and that he will not ever forget it. Belle nods, still not letting go; however, it's her son who still pulls back. He has one last thing to say - a reminder: "Don't forget the book." Belle is confused by this though, asking what he means by "the book". The man isn't given a chance to answer though, for Belle is torn from the Dream World.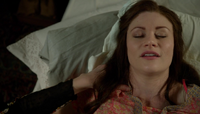 ...And upon giving birth, she rests, knowing there is more to come.
Belle wakes up, back in the convent bed, finally seeing through the end of her giving birth. She lets out a horrendous scream, in pain, as she continues to grab ahold of Emma's hand. The Savior remains to comfort the beauty as she gives her last few pushes. She continues to tell Belle to push and breathe, push and breathe. Belle follows these orders, though it takes more strength than it seems she can possibly bare. She manages to get through it though, as her son is finally born. She falls back, relieved for the birthing to be finished with. Emma tells her that it will be okay, but the beauty simply closes her eyes. She needs a moment to heal from what she has just gone through... and what more is about to come.
Act VI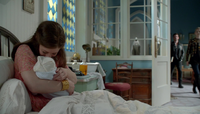 Belle experiences the joys of being a mother...
Belle is next seen in the convent bed, wide away, holding her newborn son. The Mother Superior arrives to congratulate Belle on this successful birth, and the beauty thanks her old friend, reaching out to take her hand. "They said you wanted to see me?" she then questions, and Belle confirms this. She informs Blue that she needs her help, something that the fairy immediately consents to. Belle has Mother Superior sit down with her on the bed, and after giving her son another look, she asks Blue if she will be his fairy godmother. Blue is touched by this request; however, Belle adds the question of Mother Superior taking the boy somewhere safe, somewhere far away from all of this. "Belle, what are you doing?" Emma exclaims, and Belle states that Rumple will never stop; this is their son's only chance. "Please take him," she asks, once again of Blue, "Just until this is all over."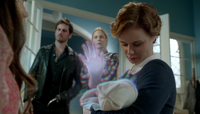 ...Just before having to send her son away.
The fairy points out that Belle doesn't know when or if this will comet to pass, but the beauty believes it will; she has to believe it will. She looks down at her son, the tears now building up in her eyes. "Take him," she pleads, and Blue finally agrees to. With that, Belle gives her baby boy a kiss on the head and places him into Mother Superior's arms. "Thank you, Blue." However, Belle remembers that there's one more thing; she calls for Hook, who hands over a book. It's Her Handsome Hero. Belle asks that Mother Superior read it to her son so that he knows she is always there for him. "Bye, Gideon," she says to her baby, "Strong and brave. A hero of all time." She kisses her son again, one last time, and tells him to never forget that she loves him. Belle is now in tears, but insists that Blue take off. The fairy proceeds to use a type of magic on the baby.
Rumple, meanwhile, has finally gotten through the protection spell put up around the convent. He pushes open a set of doors, ready to go meet his son. Emma and Hook are comforting Belle as the Dark One arrives, and no words are exchanged as he looks around to see that there is no baby in sight. "No..." he utters, looking out the window and seeing the Blue Fairy fly away with his second born child. "You abandoned our son?" he exclaims, turning to Belle, "After everything?" However, Belle begs to differ, stating that she did not abandon him. She gave him his best chance at a good life, and after what Rumple did, that's clearly a life without him in it. "Belle--" Rumple tries, but the beauty refuses to hear him out. She tells him that it's over and that there is nothing left for him to say. The Dark One looks out the window again, seeing that his son is long gone, and he turns back to Belle. He asks to be, at the very least, told the boy's name. Belle doesn't answer, so Rumple asks again. "Why?" she wants to know, "So you can use it to find him?" Belle makes it clear to her husband that he can do what he will with her, but she will never tell him. But Rumple would never hurt Belle. Never. "But I will find our son." He proceeds to walk away.


Return to the Enchanted Forest of the past, one final time, and we see it storming outside of a peasant family's cottage. Belle approaches it, her cloak up, with the stolen baby in tow. Its parents, Jack and Jill, come running out, relieved to be reunited with their son. Belle is happy to hand the baby over to Jill, and she and Jack both embrace with the child. Unbeknownst to everyone though, Rumplestiltskin is watching them from afar, seeing this happy reunion take place. He watches as Jack leaves his wife and son to hug Belle, forever grateful that she got him and Jill back their baby boy. The Dark One then closes his eyes, having had enough of this view, as it seems to only be depressing him, watching this baby be reunited with a set of parents who actually love him.


"Someone lose another son?" a voice calls out to Rumple, as comes through an entrance of his pawn shop. The light flickers on, and the Dark One sees that the Evil Queen has come to pay him another visit. "Don't, not now." "Or what?" The Queen laughs, reveling in the fact that it seems Belle really hates Rumple now. The Dark One demands that the Evil Queen leave, but she refuses, wanting to take the time to enjoy this. She went through a lot of trouble to see what happens when you poison Rumple's love. "I did no such thing," Rumple exclaims, directly pointing fingers at the Queen. She denies this though, stating that it was Rumple when he made her an enemy. "Okay, yes," she admits, "I did the actual dosing of the tea after I stole your magic." The Queen states that Rumple forced her hand though, but assures that it'll be easy to fix. "Just tell her." But the Queen then recalls that Belle won't believe him, proceeding to sarcastically call that tragic.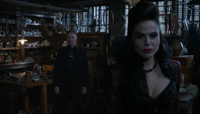 The disgust that is Golden Queen finally comes to an end.
Rumple states that he may not have crossed a line today, but the Evil Queen most certainly did, and he's going to make sure she pays for it. However, the Queen doesn't buy this all that much, believing that if Rumple hasn't found a way to kill the woman who murdered his son (see "Quiet Minds") without enlisting her help then she's not all that concerned. The Queen begins to leave, but Rumple points out that there's one thing he thought she knew about him by now, that being he plays a very long game, and that she is nothing more than one of his pawns. But the Queen turns back; she wishes him good luck finding his son... again. "I hear fairies make wonderful mothers." With that, she leaves, this last insult taking a particular toll on Rumple. He leans back, stunned by this, but then starts to walk around. And then he knocks over a shelf of miscellaneous items. Enraged, he picks up an old cane too, and begins beating to pieces numerous items, breaking everything his cane hits.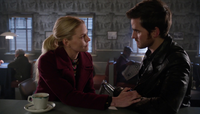 Emma explains why she keeps fighting...
Down the street, meanwhile, Hook enters Granny's Diner where he joins Emma at the bar. He tells the Savior that he's got good news: Regina called and she was able to reverse the spell, so hopefully that nun will live a long and far less eventful life. Emma proceeds to wonder about Belle though, and how she's doing; Hook states that she's as good as she can be after all that she's just been through. "What she just did, it's why I keep fighting," Emma shares. She states that the title of "the savior" is something she has thought about running from numerous times but she hasn't, and what Belle did today reminds her why she doesn't run, why she fights. "Because I want to project my family and my friends. The people that I love." She is now holding onto Hook's hook, but he realizes that the vision is still getting to her. However, she believes that it's time she get to it, which Hook smiles at, stating that that's the fire that he loves. "Let's go find out what really happened to me," the Savior exclaims.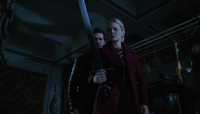 ...And sets off to find and defeat the hooded figure.
Return to the pawn shop, where it seems to have been abandoned. The lights are off and it's a total mess. Emma and Hook enter quietly, the former immediately noticing the destruction that took place. "Looks like someone had a temper tantrum," she exclaims, and Hook wonders if Emma really thinks she'll find something in the shop to help explain her vision. The Savior starts to look through the mess of what Rumple has left behind, and her eyes instantly land on a sword. "I think I just did," she says, approaching the sword. She reveals to Hook that this is in fact the sword from her vision; she wonders why it's here though. She proceeds to reach down for it, thus triggering a view of the future.
Flash to Emma battling the hooded figure in the middle of Main Street, the two of them wielding their swords. This comes to an end, however, when the hooded figure impales Emma in the chest. (see "The Savior") Her most recent vision is shown once again though, that being the closeup of the sword, and the red jewel on the handle.
Back in the present day, we see Emma's hand tremor again. Hook is able to break her of this trance though, asking if she is okay. The Savior proceeds to pick up the sword, confirming that she is. "I think it's safe to say that this is what did it." "This is the sword that killed you?" "Will kill me." Hook wonders why it would be in the shop, something that Emma doesn't know; however, now that they have it, she thinks that they may finally be able to find who's responsible for it. "The figure under the hood," Hook utters, and Emma confirms this. She stands up, and the two examine the sword. "Then we can stop them," she says.
Trivia
Production
Reception
Ratings
The episode saw a improvement from the previous outing, placing a 1.0/3 rating among 18-49s with 3.28 million viewers tuning in.[5]
Reviews
The episode was met with positive reviews.
Christine Laskodi of TV Fanatic gave the episode a mild review: 3.5 out of 5.0. She started her review off by saying, "No one plays a better long game than Rumplestiltskin. Or Rumbelle, for that matter." She expresses her relief that the Rumplestiltskin/Evil Queen romance is finally over, but admits to not be in support of the Dark One having a happy ending with Belle. However, Laskodi's biggest complaint regards Snow and how little her and David's sleeping curse impacted her this episode.[6]
Justin Kirkland of Entertainment Weekly gave the episode a B.[7]
Gallery
Gallery of photographic stills released to promote the episode.
External Links
References
Community content is available under
CC-BY-SA
unless otherwise noted.